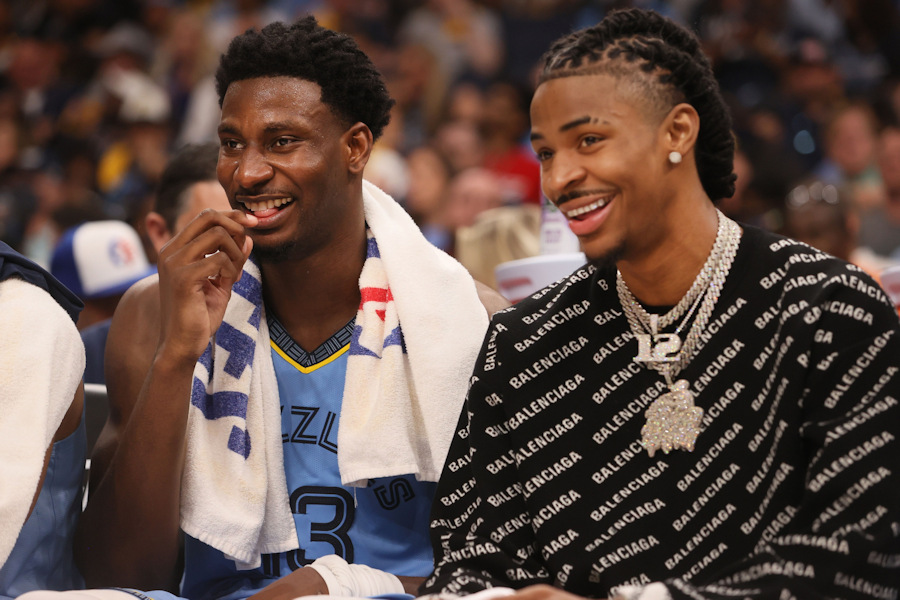 "Funny". Even though they just got eliminated from the playoffs in the conference semifinals, the Grizzlies only have this word on their mouths. Throughout the year, this team has seduced and shone with its enthusiasm, and until the end it has remained true to its ideas and its attitude.
"Frankly, we have a unique group. We've been saying it all year, and it was just fun. It was a fun season." comments Tyus Jones. "It is something to take advantage of because it is not usual. It is by far the team where the players are closest among those I have played. This is the team in which I have seen the most pleasure in playing, and it is with her that I have had the most pleasure since I have been in the NBA. They are a unique group, and that is something that should not be taken for granted. It is simply unique. »
"I have never been part of a group like this"
A group with a real identity. Since taking over the team, Taylor Jenkins has given it that college attitude with a united and generous group, strong in aggressive and spectacular basketball.
"I just told them how proud I was of them. I've never been part of a group like this." the Memphis coach believes. "It's the players, the coach, the coaching staff… I want them to savor it all and remember that despite this loss and the end of our season, it will motivate us to keep going. Individual progression and collective progression during this season can only make us better. It is a step in the direction of that bright future we keep talking about. (…) I have never been part of a group, a set of players and staff with this level of attention. This is my third season here and this band deserves it all. We just weren't good enough in the end. It's basketball, but I'm extremely proud of everyone's commitment and care to make this season unique. »
"It's just authentic, it's natural. It's like when we play with friends and we are very good together."
Ja Morant in civilian clothes, it was Jaren Jackson Jr who took the team on his shoulders. He was more vocal than usual, and after a nearly empty season, he's just happy to be able to give it his all in a group he loves.
"Clearly it is the team with which I had the most pleasure" responds to a journalist. " Why? Because we kept a lot of players from last season, and there is a lot more continuity. Everyone knows each other. And the new ones fit perfectly with what we were doing. The coach now has experience, he has made his mark, now he knows how to train "He's coach of the year to me. Just look at how our season went… It was balanced at first, then we did a little series, found our groove and really had fun! It's hard to explain, we had a lot of fun together. We really didn't like each other. nothing else mattered, we only cared about what we had, we just had fun together. It was crazy. And it's just authentic, it's natural. It's like when we play with friends and we're really good together."
Shots
bounces
players
GM
Minimum
Shots
3 points
LF
Off
Def
Soon
P.S
bp
in you
Connecticut
party
Points
ha morant
57
33.1
49.3
34.4
76.1
1.4
4.4
5.7
6.7
3.4
1.2
0.4
1.5
27.4
dillon brooks
32
27.7
43.2
30.9
84.9
0.9
23
3.2
2.8
1.6
1.1
0.3
3.3
18.4
Desmond Bane
76
29.8
46.1
43.6
90.3
0.6
3.8
4.4
2.7
1.5
1.2
0.4
2.6
18.2
Jaren Jackson Jr.
78
27.3
41.5
31.9
82.3
1.5
4.3
5.8
1.1
1.7
0.9
23
3.5
16.3
De'anthony Melton
73
22.7
40.4
37.4
75.0
0.9
3.6
4.5
2.7
1.5
1.4
0.5
1.8
10.8
brandon clark
64
19.5
64.4
22.7
65.4
2.1
3.2
5.3
1.3
0.5
0.6
1.1
1.9
10.4
Tyus Jones
73
21.2
45.1
39.0
81.8
0.2
2.2
2.4
4.4
0.6
0.9
0.0
0.4
8.7
Zair Williams
62
21.7
45.0
31.4
78.2
0.4
1.7
2.1
1.0
0.7
0.6
0.2
1.8
8.1
kyle anderson
69
21.5
44.6
33.0
63.8
1.0
4.3
5.3
2.7
1.0
1.1
0.7
1.6
7.6
Steven Adams
76
26.3
54.7
0.0
54.3
4.6
5.4
10.0
3.4
1.5
0.9
0.8
2.0
6.9
John Konchar
72
17.9
51.5
41.3
55.1
1.2
3.4
4.6
1.5
0.4
0.6
0.3
1.3
4.8
Xavier Tillman, Mr.
53
13.2
45.4
20.4
64.8
1.2
1.8
3.0
1.2
0.6
0.9
0.3
1.2
4.8
Sam Merrill
6
9.6
33.3
30.4
50.0
0.2
1.0
1.2
0.7
0.3
0.0
0.0
0.5
4.2
Santi Aldama
32
11.2
40.2
12.5
62.5
1.0
1.7
2.7
0.7
0.5
0.2
0.3
1.1
4.1
Jarrett Culver
37
9.1
37.8
25.5
47.1
0.4
0.9
1.3
0.9
0.5
0.5
0.1
1.1
3.5
Killian Tillie
36
12.8
33.9
31.4
62.5
0.6
1.1
1.7
0.6
0.4
0.6
0.4
1.6
3.3
yves pons
12
5.9
31.3
33.3
0.0
0.4
0.6
1.0
0.1
0.1
0.1
0.3
0.5
1.1
dakota matias
6
2.7
33.3
33.3
0.0
0.0
0.3
0.3
0.2
0.0
0.2
0.0
0.2
1.0
Shaq Buchanan
two
4.9
25.0
0.0
0.0
0.5
0.5
1.0
1.0
1.0
0.5
0.0
0.5
1.0
tyrell terry
two
1.5
100.0
0.0
0.0
0.0
0.0
0.0
0.0
0.0
0.0
0.0
0.5
1.0
Daquan Jeffries
3
2.9
50.0
0.0
0.0
0.0
0.7
0.7
0.3
0.0
0.0
0.0
0.3
0.7
jon teske
3
2.6
0.0
0.0
0.0
0.0
0.7
0.7
0.3
0.0
0.3
0.0
0.3
0.0
Xavier Sneed
two
3.8
0.0
0.0
0.0
0.5
0.5
1.0
0.0
0.0
0.0
0.0
1.0
0.0